Alice Provensen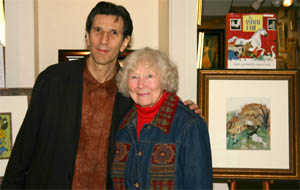 Alice Provensen began illustrating books with her husband Martin in the mid 1940s.  They are perhaps best known for illustrating the book, A Visit to William Blake's Inn, winner of the Newbery Medal and a Caldecot Honor book.  The Provensen's have also been honored by the Art Books for Children Citation of the Brooklyn Museum and by the Gold Medal for illustration of the Society of Illustrators as well as having been included on the New York Times Best Illustrated Books of the Years list nine times.
Dear Friends,
We are sorry to note the passing of our dear friend Alice Provensen at 99 years of age. Winner of a Caldecott Medal and Honor, Alice, often in collaboration with her husband Martin, revolutionized the world of picture books, entertained generations of children and influenced many of today's best known illustrators.
R. Michelson Galleries is honored to have represented her artwork for the past dozen years, and we look forward to honoring her legacy at this year's annual illustration celebration.
-Rich Michelson
More about Alice Provensen: Remembering the Work of Alice Provensen, an "Illustrator's Illustrator."