: Mark Meunier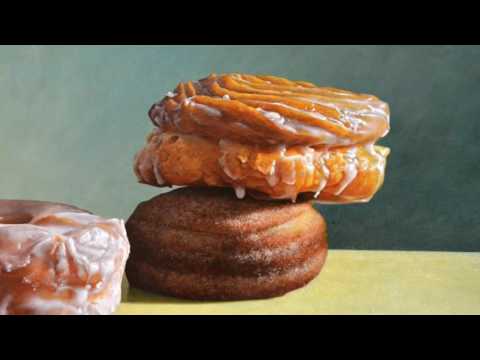 Watch the Video
Mark Meunier (May 18th, 1949-June 12th, 2017) was born in western Massachusetts and moved to Washington DC, where he attended college as an art major. He returned to Massachusetts in the 1970s where he taught himself egg tempera, a painting medium employed by very few artists. Mark saw painting as a continuous learning process and had begun incorporating an oil glaze to create more saturated color in his trademark crisp and incredibly detailed paintings. He explored a wide variety of subjects in his work, including landscapes, forest scenes, seascapes, botanicals, pastries, figures, and still life. When he was no longer able to paint his intricate egg temperas, he continued to create abstract acrylic paintings and ink drawings. He was an artist to his core,
Mark refined and perfected his unique painting talent for more than 35 years. He won numerous awards and earned national recognition along the way. His paintings have been featured on public television and in many magazines, including American Artist, American Art Collector, Cape Cod, and Yankee. Mark's home and studio were in rural Montague, Massachusetts, where he lived with his wife, Trish, his dog, and three cats. In addition to his painting, he loved making his own frames, woodworking, maple sugaring, golfing, and playing bottleneck guitar.
See more of Mark's work on his gallery page here.