Present and Past Exhibits: We Didn't Know How to Read But We Knew How to Live
In collaboration with The Suncheon Picture Book Library, Suncheon, Korea
Literary works by Newly-Literate Grandmothers from Suncheon, South Korea
April 15-May 6, 2019
Reception: Friday April 26, 2019, 6-8pm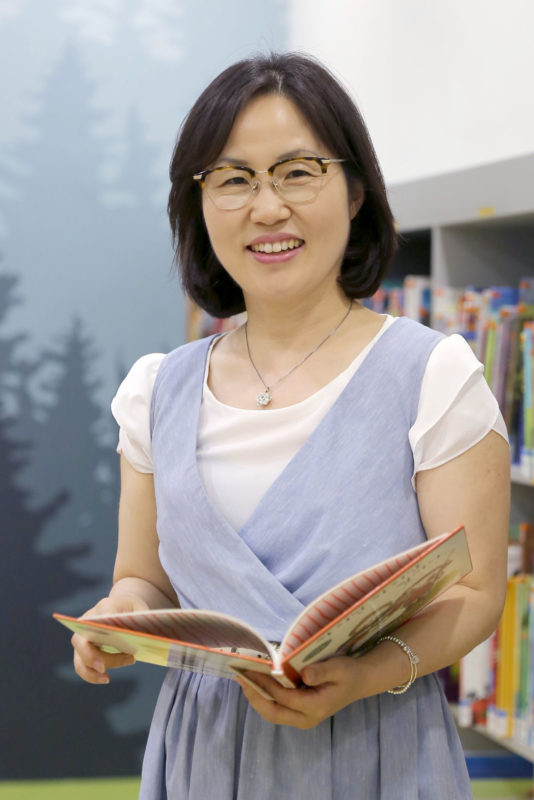 Speaking at the event will be Ms. Okhyeon Na, Director of the Suncheon Picture Book Library
View the reception photos here.
These twenty grandmothers from Suncheon, Korea, did not learn to read and write as children because they were women, they were poor, and they were born in Korea in the early twentieth century. Through a program at the Suncheon Picture Book Library, they had the opportunity to learn much later in their lives and it has given them the ability to express their own life stories through writing and drawing. These Korean grandmothers, who went through life's trials and tribulations, and survived the historical turmoil in South Korea, tell us their own stories in heart-warming and humorous ways. These are deeply personal stories that they can now write in their own words and pictures.  These stories and pictures were compiled and published in a picture book which debuted at the Bologna Children's Book Festival.
Read the New York Times article about the adult literacy movement in South Korea
Here are some of their stories, stop into the gallery to see more:
---
 by Sung-Jah Jang
Got Married Because of a Hole in a Sock
When I visited my aunt's house, there was a strange man. Later, I found out that he was my arranged blind date. He wasn't my type. However, when I saw his big, white toe sticking out through his sock, I suddenly started to feel that he was very attractive. We hit it off and began seeing each other often.
One day, while walking along the riverside, we walked all the way to the neighboring city of Gwangyang. He asked me to have jjajangmyeong (Chinese noodles) together and took me to a Chinese restaurant. However, after looking at the menu, he asked if we could leave and we walked back home.
Later, he confessed that he didn't have enough money for the food. My husband was so poor that he couldn't even afford to buy just one dish of simple Chinese noodles.
---
by Myoung-Nam Kim
Desperate to Learn
In my younger years, I ran a restaurant business. One day, one of my acquaintances asked me to buy an insurance policy. So, I went along with them to sign it. The person handed me a document and asked me to write down my birth date. I didn't understand the meaning of the word "birth date", as I asked the person what it meant. Everyone started to stare at me for not understanding the word.
---
by Jeong-Ja Kwon
My Elder Son and the Soil
When my eldest son was in middle school, he said the school asked him to bring in a flower pot. However, I was too busy and told him to do whatever as he wished. I completely forgot about it afterward.
Later, I found out that my eldest son had picked a hydrangea flower from the yard and planted it in a pot. After taking the pot to the school, he took care of the Flower well. The flower bloomed so well that the school had awarded him first place in the class, and he bought some prizes back home.
I was so proud of my son. So, I told him that he has a green thumb and he should cherish and stay close to the soil. My son went to college majored in civil engineering. He became a surveying engineer and is well off now.
---
by Oh-Duck Jung
Six Daughters
My first-born daughter was a bit of a tomboy, and she worried me because she often hung out with boys. My second daughter is honest and meticulous. Her personality is similar to mine, so we got along well. My third daughter was pretty and a good student, so she made me happy. My fourth daughter, who currently lives with me, is very loving and affectionate. My fifth daughter is jealous and greedy; even now, she tries to hog all of my affection. My sixth daughter always wants to be praised for everything she does.
I don't remember showing favoritism among the daughters I raised.
However, my fifth daughter always complains that I like the other girls more than her.
---
by Young-Boon Kim
The Unintentional Chestnut Marriage
During the time off from my factory work in Daegu, I went home to see my parents. My father refused to let me return to work, and insisted that I get married.
One day an older lady visited my home. She asked me for a glass of water, and she scanned me from head to toe. The following day, a tall gentleman passing by was staring at my house.
That same night, someone called me over from the next room. There was the gentleman that I had seen earlier that same day. I was so shy that I couldn't look him in the eye. The man secretly handed me some chestnuts underneath the table. I took them without knowing what they meant. However, later I found out that by accepting the chestnuts, I had accepted his marriage proposal.
---
by Ahn-Sim Ahn
Betrayal of a Friend
One of my close friends, Myoung-ja Paik, was attending school, but we got along well because she didn't act like she was more educated than me. She also liked an older boy who went to the high school. However, the high school boy that friend liked sent me a love letter to ask me out. I had to say no to him because I didn't want to betray my best friend.
Later on, my friend got married at the age of twenty. My friend's father had passed away a few days before her wedding. Thus, she exchanged her wedding vows with her funeral clothes on.
We met each other after being separated for ten years. She often visited my home after becoming a widow. I treated her well. However, my friend started to have affections for my husband. I avoided her, feeling betrayed. A few months later, my friend moved to Seoul and we've been out of touch ever since.
---
by Soon-Ja Ha
Almost Married to a Scarecrow
There was a high school boy that I liked, and we fell for each other.
By the time that we wanted to get married, his family rejected me for being poor and uneducated. So, I married another man through a matchmaker.
The matchmaker paired me up with a man who was the oldest of six children. My husband to be was a soldier. I didn't have any interest in him, but he liked me very much. Our parents met one day to set our wedding date.
A few days before the wedding, I received a phone call from my husband that he wouldn't be able to make it to the wedding. His parents were so concerned that they decided to make a scarecrow to put it in his place at the wedding. However, my groom showed up on the day of the wedding.
During our wedding, there was a funeral procession. Many people believed that this was unlucky and meant there would be no prosperity for a newlywed couple. However, we had our own wealth.
---
by Duck-Rey Kim
Father's Hug 
My father loved me, the third daughter in the family, very much. I played on his lap all the time without knowing of his illness. One day, my mother was so concerned about my father's health that she went to consult a fortune teller. However, my father passed away while she was gone.
No one in my family was able to see my dad's final moments. When I was older, I heard that my aunt, who had lived in the same village, was making a visit to my home and found my father's dead body. There, she had also found me asleep in his arms.
After my father's death, I no longer enjoyed playing outside; I always stayed home and knit.
---
by Yu-Rey Kim
Depression 
Before I could read and write, I could never understand the letters and statements I received from the local farmers' association and government. I felt miserable for not being able to understand them.
After being injured by a mesh screen, I had to receive a corneal transplant in one of my eyes. The pain became so severe that the pain of depression came with it. I even tried to commit suicide several times.
Thankfully, my eldest son quit his job to be with me. My son became the reason I decided to fight my pain and keep living. I was then inspired to learn to read and write, which I'd been wanting to do for many years.
When I focus on studying writing or drawing, the symptoms of my depression dissipate. Occasionally, the pain will still unexpectedly overshadow me, but I can endure it when I focus on learning. I'm so overwhelmed and proud of myself when I complete a drawing. As I get better at it, new inspirations come to me and feel like I'm becoming a true artist.
---
by Jeong-Ja Kim
A Photograph of a Marriage 
I was diagnosed with a lung disease while working in a factory. My lung disease was cured with the help of seafood that my mom had caught and brought for me. After my recovery, I was hired as an au pair. However, after working unpaid for two years and never receiving what I was owed; I returned home to get married.
A matchmaker emptily promised my mom that she had found me a groom from a rich family. However, it turned out that my husband had neither a job nor money. He was so poor that he couldn't even afford a wedding ceremony. After simply taking a wedding photo, we started living together as husband and wife.
I've always wanted to wear a wedding dress. Thus, I had planned to wear a wedding dress, when I turn seventy years old. Unfortunately, my husband got into a car accident. As a result, he is now hospitalized and is unable to move his arm and leg.
Now, my dream is shattered.
---
by Yang-Im Ra
My Hubby's Cheerful Forgetfulness
Even after an argument, my hubby always said, "Hey, let's have a meal," and pretended like our dispute had never happened. Even at times, when I was really upset, I did often feel better because of this cheerful forgetfulness.
He was a man with a quick temper, but was also very loving. If he saw me sitting on a cold wooden floor, he would quickly bring a cushion for me to sit on. He always put others before himself. There were times when I couldn't understand his decisions or reasoning. Frustrated, I would repeatedly unleash my anger on him to make him miserable.
My husband faced death many times during his military service. He was captured by North Korean Soldiers several times, and was finally discharged after being wounded in battle.
After he had passed away, I felt sorry and regretted not treating him better.
---
by Yeon-Ja Bae
Son in Fire
On the last day of the lunar year, I was lighting the fireplace to boil water to bathe my infant son. My other five-year-old son was playing next to me.
I went into another room to bathe the baby. After a little while, I realized that my older son in the kitchen was very quiet, so I asked him what he was up to. He said that he was watching the fire, and that the wood had almost burned out.
While giving a bath to my son, something didn't feel right. I quickly ran back to the kitchen. The kitchen was filled with smoke and my son was in the fire. I quickly gathered my son into my arms, and ran away from the fire, crying my heart out. I tried to shout that there was a fire in my house, but the sound of my voice refused to come out of my mouth.
A neighbor brought baskets filled with water to put out the fire. My husband's older brother, who lived in the same village then, brought my son to his home and comforted him. All of this happened just a few days after I'd lost my husband, so my mind was in absolute chaos.
---
by Gyoung-Ae Son
Father
My father squandered his inheritance on alcohol, women, and gambling until he became broke. My mother became sick because of my father and passed away at a young age.
I really hated my father.
He didn't bother sending me to school. He was drunk all the time. He spent everything on gambling. One day, he even brought a strange woman to our home to have sex with and made my mom bring him a meal.
After my mom passed away, I intentionally lost touch with my father. I didn't shed a single tear when he passed away, and wouldn't even look at my father's grave, which is next to my mother's, during numerous visits to pay my respects to her.
However, I've started to open up my heart little by little as I've learned to read and write. And for the first time, I bowed to pay respects to my father's grave.
---
by Young-Sun Song
The Woman Who Lived Next Door
About thirty years ago, when I lived in Yeo-Cheon, I got along well with the woman next door. Her husband drank every day and beat her up every other night. The husband had such severe delusions of jealousy that even just one step out of the house would get her into trouble. The violence got so severe that I thought she would be beaten to death.
I once helped her hide in a rented room and provided her with meals. I took care of her like my little sister. Somehow, the husband discovered her whereabouts and dragged her back home.
After a few months later, the lady begged me to lend her one million won. I felt sorry for her and lent her my hard earned money. She moved away after just paying 150,000 won, and I wasn't able to track her down for many years to receive the rest what I was owed. It was extremely upsetting because she betrayed me even though I treated her like my own sister.
---
by Soon-Rey Yang
Untitled
My name is, Soon-Rey Yang. I'm eighty-six years old. I was born in Sangnae-ri, Haerying-myeon, Suncheon City. My family consists of two brothers and five sisters, and among them, I'm the fourth daughter.
People called me 'Lightening' back in my bachelorette days. They called me by that nickname because I could do anything at lightning speed. I'm a go-getter type of person and I like to share things with others. I'm an envious person, but responsible. I like to study.
In my youth, I attended at night school. I couldn't continue learning to read and write because Japanese cops chased me and forced me to stop. I'm about to turn ninety years old, but I just became an elementary school student. These days, I'm busy doing my homework and memorizing the multiplication table.
---
by Jeong-Soon Lee
Memories with My Siblings
I always got into numerous arguments with my younger siblings when playing jegichagi, a game similar to hacky sack. My dad always disciplined me and would kicked me out of the house when I fought with them. My younger siblings and I often argued over who had bigger bites while sharing a popsicle—not a day passed by without us having an argument together.
One day, we traded in some barley grain from the storage behind our parents' backs for popsicles to fill our stomachs with. I told my siblings not to say anything about this to our parents. My father mumbled to himself that the volume of barley grain had gone down, but he didn't blame us for it.
Now, I miss those times.
---
by Sun-Nam Inn
Dream of Becoming a Neighborhood Leader
My early childhood dream was to attend school. I lived in a small village which was far away from any schools. I was afraid to leave the village because there was a rumor that there were people with leprosy that would cannibalize kids like me.
My dream during my bachelorette years was to get married to someone from a bigger village. Getting married to a handsome and stable man was my dream, and that dream came true.
My dream during my marriage was to buy lots of farmland, and that really came true after ten years of marriage.
My dream now is to learn to read and write and to become the next neighborhood leader.
---
by Young-Ae Inn
The Scary Fireplace
I'm the oldest of eight children. I was pretty much responsible for raising all of my younger siblings. I had to prepare fresh means and put out fresh hay for the cattle we had. I also had to bring meals to our farm workers working in the field.
My grandma, who was a chain smoker, told me to put burning wood into the ox's food once I had finished making it. One day, my little brother (who just began crawling) crawled into the fireplace. He got burned and started crying out for help.
My brother was treated in the hospital, but there was a medical accident during the treatment. Because of that, part of his leg was paralyzed.
---
by Jeom-Ja Han
Bigger Heart
As I get better at reading and writing, it feels like my heart is getting bigger. I'm so happy that I can read my bank statements. I'm happy that I can read the Bible. Helping others is also more pleasant because I know how to read and write now.
After gaining such confidence, there's no fear. My Kids are very happy that I've learned to read and write. I couldn't draw well at first. As I practice more, my skills are getting better. So, I'm trying to get as good as I can.
My hope is study as I'm doing now, to help others, and to focus on living a life of faith. I want to be healthy and draw lots of pictures.
---
by Ji-Shim, Hwang
Feeling Sorry for my Brother
As the eldest daughter of eight siblings, I couldn't go to school. I was too busy doing house chores.
It happened when my brother was serving in the military.
Once in a while, my brother sent me letters to me. I didn't understand the content of his letters because I didn't know how to read and write. I felt a mixture or remorse and suffocation. I urged my younger siblings to do their best in school.
I became old enough to get married and I was introduced to a few men. Before getting married, not knowing how to read or write was my number one concern. I wondered if it was good to get married without knowing how to read or write.
Now almost turning seventy years old, I'm learning to read and write.
I'm hoping to write letters to my brother before I die.
---
The Suncheon Picture Book Library
The Suncheon Picture Book Library is situated on the Suncheoanman Bay Wetlands which is a UNESCO Biosphere Reserve known for its lush gardens and wildlife. It is the 5th largest wetlands in the world. The area is an ecotourism destination and is listed in the Michelin Guide as a must-visit site in Korea.
The Suncheon Picture Book Library was the very first children's book library in Korea and the beginning of The Miracle Library Project, a combination of a lending library, multimedia activity rooms, outdoor play spaces, and exhibition areas devoted to childhood development. There are now Miracle Libraries throughout Korea.