In collaboration with The Suncheon Picture Book Library, Suncheon, Korea
Literary works by Newly-Literate Grandmothers from Suncheon, South Korea
April 15-May 6, 2019
Reception: Friday April 26, 2019, 6-8pm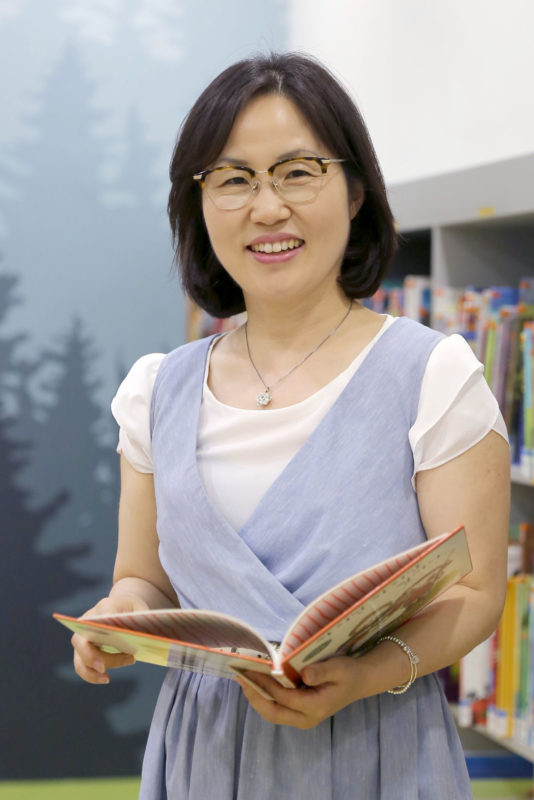 Speaking at the event will be Ms. Okhyeon Na, Director of the Suncheon Picture Book Library
These twenty grandmothers from Suncheon, Korea, did not learn to read and write as children because they were women, they were poor, and they were born in Korea in the early twentieth century. Through a program at the Suncheon Picture Book Library, they had the opportunity to learn much later in their lives and it has given them the ability to express their own life stories through writing and drawing. These Korean grandmothers, who went through life's trials and tribulations, and survived the historical turmoil in South Korea, tell us their own stories in heart-warming and humorous ways. These are deeply personal stories that they can now write in their own words and pictures.  These stories and pictures were compiled and published in a picture book which debuted at the Bologna Children's Book Festival.
Here are some of their stories, stop into the gallery to read more:
---
When I visited my aunt's house, there was a strange man. Later, I found out that he was my arranged blind date. He wasn't my type. However, when I saw his big, white toe sticking out through his sock, I suddenly started to feel that he was very attractive. We hit it off and began seeing each other often.
One day, while walking along the riverside, we walked all the way to the neighboring city of Gwangyang. He asked me to have jjajangmyeong (Chinese noodles) together and took me to a Chinese restaurant. However, after looking at the menu, he asked if we could leave and we walked back home.
Later, he confessed that he didn't have enough money for the food. My husband was so poor that he couldn't even afford to buy just one dish of simple Chinese noodles.
---
by Myoung-Nam Kim
Desperate to Learn
In my younger years, I ran a restaurant business. One day, one of my acquaintances asked me to buy an insurance policy. So, I went along with them to sign it. The person handed me a document and asked me to write down my birth date. I didn't understand the meaning of the word "birth date", as I asked the person what it meant. Everyone started to stare at me for not understanding the word.
---
by Jeong-Ja Kwon
My Elder Son and the Soil
When my eldest son was in middle school, he said the school asked him to bring in a flower pot. However, I was too busy and told him to do whatever as he wished. I completely forgot about it afterward.
Later, I found out that my eldest son had picked a hydrangea flower from the yard and planted it in a pot. After taking the pot to the school, he took care of the Flower well. The flower bloomed so well that the school had awarded him first place in the class, and he bought some prizes back home.
I was so proud of my son. So, I told him that he has a green thumb and he should cherish and stay close to the soil. My son went to college majored in civil engineering. He became a surveying engineer and is well off now.
---
by Oh-Duck Jung
Six Daughters
My first-born daughter was a bit of a tomboy, and she worried me because she often hung out with boys. My second daughter is honest and meticulous. Her personality is similar to mine, so we got along well. My third daughter was pretty and a good student, so she made me happy. My fourth daughter, who currently lives with me, is very loving and affectionate. My fifth daughter is jealous and greedy; even now, she tries to hog all of my affection. My sixth daughter always wants to be praised for everything she does.
I don't remember showing favoritism among the daughters I raised.
However, my fifth daughter always complains that I like the other girls more than her.
---
by Young-Boon Kim
The Unintentional Chestnut Marriage
During the time off from my factory work in Daegu, I went home to see my parents. My father refused to let me return to work, and insisted that I get married.
One day an older lady visited my home. She asked me for a glass of water, and she scanned me from head to toe. The following day, a tall gentleman passing by was staring at my house.
That same night, someone called me over from the next room. There was the gentleman that I had seen earlier that same day. I was so shy that I couldn't look him in the eye.. The man secretly handed me some chestnuts underneath the table. I took them without knowing what they meant. However, later I found out that by accepting the chestnuts, I had accepted his marriage proposal.
---
by Ahn-Sim Ahn
Betrayal of a Friend
One of my close friends, Myoung-ja Paik, was attending school, but we got along well because she didn't act like she was more educated than me. She also liked an older boy who went to the high school. However, the high school boy that friend liked sent me a love letter to ask me out. I had to say no to him, because I didn't want to betray my best friend.
Later on, my friend got married at the age of twenty. My friend's father had passed away a few days before her wedding. Thus, she exchanged her wedding vows with her funeral clothes on.
We met each other after being separated for ten years. She often visited my home after becoming a widow. I treated her well. However, my friend started to have affections for my husband. I avoided her, feeling betrayed. A few months later, my friend moved to Seoul and we've been out of touch ever since.
---
The Suncheon Picture Book Library
The Suncheon Picture Book Library is situated on the Suncheoanman Bay Wetlands which is a UNESCO Biosphere Reserve known for its lush gardens and wildlife. It is the 5th largest wetlands in the world. The area is an ecotourism destination and is listed in the Michelin Guide as a must-visit site in Korea.
The Suncheon Picture Book Library was the very first children's book library in Korea and the beginning of The Miracle Library Project, a combination of a lending library, multimedia activity rooms, outdoor play spaces, and exhibition areas devoted to childhood development. There are now Miracle Libraries throughout Korea.